How To Order A Compression Pump | Lymphedema Pump




Ordering a compression pump starts with a call to our specialists. We are very knowledgeable about all aspects of lymphedema/venous insufficiency and know which pumps are best for certain conditions/symptoms. 
During our call, we will go over the requirements to get a compression pump and answer any questions/concerns you may have.
You may qualify to get a compression pump covered by your insurance and we take care of the authorization process.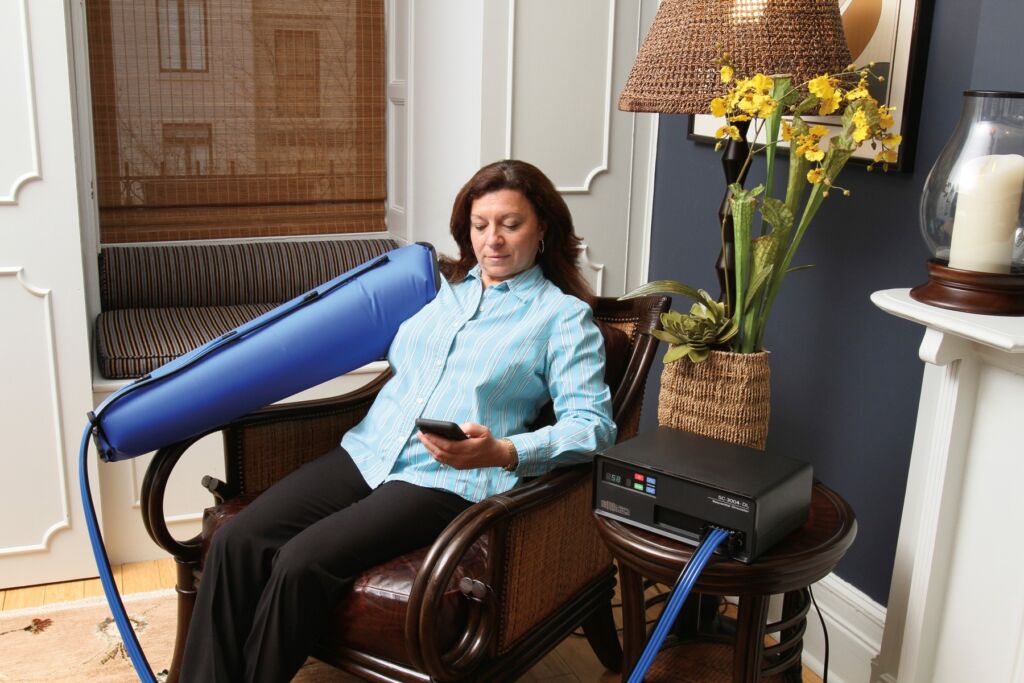 Does Medicare pay for leg compression pumps (lymphedema pump)?
Yes. Your compression pump is covered by most medical insurances, including Medicare. As long as your doctor completes the Medicare required paperwork.
How to get approved for your lymphedema pump?
Our specialist will send you an intake package with a set of paperwork needed to start the process of getting a compression pump/sleeves. 

We can either email, mail, fax the forms, or, in some cases, do an intake over the phone.

The intake forms consist of:
Patient information: General information about the patient, doctor, insurance company, as well as brief lymphedema/swelling history.
Measurement forms: You or your caregiver will need a tape measure for this. The circumference of certain areas of the extremity needs to be measured to ensure a proper fit for the sleeves. 
Patient Authorization form /Assignment of Benefits: We need this so we can contact your doctor and the insurance company on your behalf. This form must be signed.

As soon as we receive the intake information completed, within 24 hours, we will have the insurance required paperwork sent to the doctor's office and start an insurance authorization. 

We do communicate with the doctor and insurance company often, to ensure the process goes as quickly as possible. 

If the doctor's paperwork and the insurance authorization are completed on a timely basis, the device will take about 4-10 days for you to get.  

We keep you, the patient, updated along the way. 

Doctor's approval: We will contact your doctor directly to get the required forms so you can get your compression pump covered by insurance.
Shipping. We ship the device UPS or Priority USPS.
We have many years of experience dealing with compression devices and getting them authorized for the patients.
We have excellent customer service and are available to help you with your needs.
Our garments can accommodate very large patients. They zip on, not velcro,  so they last longer. Pressure setting can be adjusted by the patient as the need for more or less pressure arises.
Depending on which brand of compression pump you get, the warranty is from 1-3 years. 
Frequent Asked Questions
Do you need a prescription for a lymphedema pump?
A prescription from a licensed physician is required to order/purchase a lymphedema pump. Please call us to help you get a prescription from your doctor.  +1 800 854-0335.
Does Medicare pay for leg compression pumps?
Yes. Most insurances cover 80-100% of the cost, so your out-of-pocket expense can be $0.- $400.00.  If you don't have insurance or, if you have a high deductible, we can offer you very good prices, starting at $600.00.
How much does a lymphedema pump cost?
A compression pump and one arm or one leg sleeve can start as low as  $600.00 and, depending on your needs and which pump you choose, can cost as much as $3500.00. Of course, insurance usually covers most, if not all, of the cost.
Shipping costs of a lymphedema pump
We ship the device UPS or Priority USPS.  We currently ship throughout the US Shipping costs are  $25.00 – $35.00.
Call us to learn more.   +1 800 854-0335.
Lymphedema pump sizes
Lymphedema Sleeves work specifically with the compression pump. These lymphedema sleeves come in a variety of types and sizes. We can fit very large sizes. We do get your measurements before shipment to ensure a proper fit. 
Click here to access our arm measurement form.
What is included with my lymphedema pump?
Your lymphedema pump will come with a sequential,  pneumatic compression device (the make and model your doctor prescribed) and at least one sleeve, complete with connection hoses  There are instructions, warranty, and care instructions as well.
How do I use my lymphedema pump?
You should sit in an upright position with extremity(s) raised.  A recliner/couch, bed, for legs; a chair or sofa for an arm. The sleeve will be zipped up, the pump turned on, the timer set, and the pressure set to whatever mmHg was prescribed by the doctor.  We consult your physician regarding the treatment plan.  You can relax, do work, read, etc. during your effective and quiet treatment.
The following is an example of conditions as well as the frequency and duration of time required to use the pump.
| | | | |
| --- | --- | --- | --- |
| Condition | Distal Pressure | Duration | Frequency |
| | | | |
| Post-stroke, paralysis, pregnancy | 40 mmHg | 1 hour | 2x/day |
| Post-surgery or injury | 40 mmHg | 30-60 min | 2x/day |
| Mild lymphedema | 40-50 mmHg | 1 hour | 3x /day |
| Moderate to severe lymphedema | 50-60 mmHg | 1  hour | 3x /day |
| Post phlebitic syndrome, venous insufficiency | 50 mmHg | 1 hour | 3x/day |
| Venous stasis ulcers | 20-30 mmHg | 30-60  min | 2x/day |
How much compression do you need for lymphedema?
Your treatment plan will be prescribed. Your compression pump will come with a detailed treatment plan and thorough instructions on how to use the compression pump and sleeves.
How often should you use a lymphedema pump?
Most treatment plans prescribe the use of a lymphedema pump 2-3 times a day. 
Does a compression pump come with a compression sleeve?
Yes. Each compression pump will come with either one or two sleeves, depending on your needs and what your doctor prescribes.
How long does a lymphedema pump last?
Many people have had their compression pump/sleeves for many years.  Insurance will cover a new pump every 5 years.  There is a good warranty which lasts between 1-3 years, depending on the make and model.