WE ARE… 
TOTAL COMPRESSION PUMPS
6500 River Place Blvd.   Bldg  7   Ste 250                                                                                  Austin, TX 78730
We gladly accept MEDICARE and most other insurances
If you need more information please call 800 854-0335 or complete CONTACT FORM 
We carry a variety of Pumps and Sleeves including BIO-COMPRESSION
Compression pumps are a valuable tool when it comes to providing intensive compression therapy for  a variety of conditions.  The most common conditions are  lymphedema, venous insufficiency and  DVT  however, they can also treat conditions such as diabetes, immobility,  obesity and complications after surgery.  Total Compression Pumps provides  compression devices and garments for people who suffer from pain, swelling, fibrosis, poor circulation and sensitivity as well as ulcers and wounds.  We provide  quality brand pumps, that have a good warranty, and we will be  happy to help you choose the right device for your condition. Compression devices can provide intermittent, sequential and gradient compression therapy in the comfort of your own home, which is vital in the long term, successful treatment of these conditions.
      Walk in Office Hours  M – F   10 – 4         Phone Calls Answered  M – F    9 – 7                                             Leave a message 24 hours a day and we will get back to you as soon as  possible
Total Compression Pump is a leading, national provider of Lymphedema, Venous Insufficiency, Peripheral Artery Disease and Deep Vein Thrombosis Pneumatic Compression Pumps.
We have many years of experience.

We do all the work for you, successfully dealing with doctors and insurance companies to get your compression device approved and delivered.

Everything starts with your call. If you call today you can get a compression device quickly.
Our dedicated team will work hard to assist you in getting a compression pump and we will do our best to make it as affordable as possible.
We are Compression Pump specialists, not a large Durable Medical Equipment company that sells many products.
We focus on lymphedema and compression pumps only.
Our years of experience are a benefit to you, our customers.
You will deal with efficient professionals and get your pump quickly. Our pumps have a warranty and we follow up with our customers. If you have a question, a concern or complaint, we will listen to you and quickly help you resolve any issues.
Remember,

we work for you

. Your satisfaction and well-being are important to us.
We provide compression pumps to many states.
If you do not have insurance, or if you have a high deductible, we will work to get you an affordable compression pump.
Please call 800 854-0335 to discuss how we can help you get the most effective compression pump at little or no cost to you or, complete our Contact Form.
Many of our patients were so tired of compression stockings and the amount of time-spent daily, getting them on. It was a struggle that became their 'daily battle.' Others had appointments a few days week, at the physical therapist's office, wrapping and bandaging their legs. Taking time out of their busy schedule a few days a week became an exhaustive burden. There is another solution that is stress free, relaxing and more effective. As lymphedema is not curable, the treatment chosen will last for many years and should not be a negative experience, nor cause stress. A compression pump is used in the comfort of your home, while resting or doing whatever passive activity you chose…TV, reading, computer, etc. We will take care of everything for you; from sending the paperwork to your Doctor's office to getting insurance company authorization, while continually giving status updates until your pump is delivered. We'll send you a treatment plan and we'll be available to guide set-up and answer any questions you may have regarding your new pump.
A Pneumatic Compression Pump is an easier, cost effective and less time consuming solution for individuals with Lymphedema/Venous Insufficiency, DVT and/or PAD. It diminishes pain and discomfort, reduces swelling and edema, increases circulation and provides a healthier lifestyle for patients. Please call us if you have any questions regarding any of our pumps.
Please call 800 854-0335 to discuss how we can help you get the most effective compression pump at little or no cost to you or, complete our Contact Form.
WHAT CAUSES SWELLING?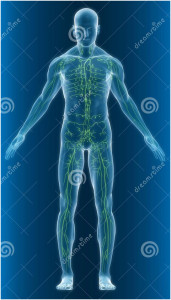 The Lymphatic System is an important part of the immune system. It is comprised of a network of tissues, ducts and lymph nodes (colored green) which drain fluids from your body's tissues. The fluids carry toxins and other waste products to your lymph vessels/nodes, so your body can eliminate. When lymph nodes/vessels are damaged or blocked, due to a variety of reasons, edema (swelling) occurs. The most common symptom of lymphatic obstruction, or lymphedema, is swelling in one or both of your arms or legs. A Pneumatic Compression Pump along with sleeves, for one or both extremities, is often prescribed by doctors. The compression pump does for you what your body used to do; it eliminates stagnant lymph fluid from extremities, which reduces swelling, discomfort and pain.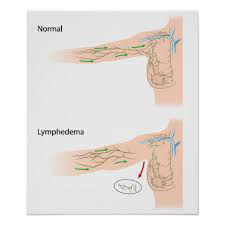 Breast Cancer patients often get Lymphedema in their arm due to lymph node removal during their operation. The body loses the ability to eliminate arm fluid, sometimes immediately after their operation, but often, from a few to many years, after their operation. A Pneumatic Compression Pump and Arm Sleeve are often prescribed by doctors to help alleviate swelling, pain and discomfort.
Recent Posts