We gladly accept MEDICARE and most other insurances
If you need more information please call 800 854-0335 or complete CONTACT FORM
We carry a variety of Pumps and Sleeves including BIO-COMPRESSION
CHRONIC VENOUS INSUFFICIENCY (CVI)
When veins in the legs are not working properly and lose the ability to pump blood effectively, the condition is known as Chronic Venous insufficiency (CVI). CVI causes blood to "pool" or collect in the veins and these veins don't return blood back toward the heart, the way they should. This condition causes Venous Insufficiency, Venous Stasis Ulcers, Varicose Veins and Cellulitis, a serious bacterial skin infection. Chronic Venous Insufficiency is a complication of certain cardiac conditions and peripheral artery disease, as well as diabetes.
SYMPTOMS OF CVI
Swelling of the legs and ankles
Skin turns dark red/purple/brown (looks like bruise) over area of leg where blood is leaking from inside vein
Hyper-pigmentation; leathery looking skin
New bulging veins (varicose) flaking; itching
Venous Stasis Ulcers
SYMPTOMS OF VENOUS STASIS ULCERS
Small to medium red marks; Difficult to heal
Skin becomes thick, dry and itchy
Ulcers/open wounds begin to form, emitting fluid/blood
Two other types of ulcers occurring on foot/leg area are Peripheral Artery Disease Ulcers and Diabetic Neuropathic Ulcers; we provide compression pumps to treat these conditions also.
SYMPTOMS OF CELLULITIS/INFECTION
Tenderness; Redness that spreads; Swelling, Skin feels Warm; Fever; Chills; Often appears near newly opened skin-such as new cut, ulcers or wound.
The above conditions are difficult to heal, potentially very serious and can lead to many serious health problems, if not treated. An estimated 40 percent of people in the United States have CVI. If patient's current treatment, which includes elevation of legs, exercise and compression stockings, are no longer effective or, are not an option, there is another remedy. Our Pneumatic Compression Pump with sequential, gradient pressure, helps eliminate stagnant fluid from leg/foot area, which reduces swelling and pain and promotes circulation. Decreasing swelling and stimulating circulation are the cornerstones of healing the conditions described above.
For more information, please call 800 854-0335 or complete Contact Form
Venous Insufficiency photos showing bulging veins, swelling, leathery hyper-pigmented skin, pooling blood and ulcers.

CVI, Ulcers and Cellulitis – a bacterial skin infection

Venous Insufficiency causes pooling blood (from damaged veins) and swelling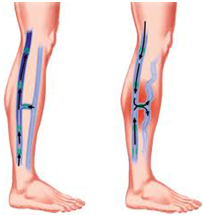 Plaque in veins cause Venous Insufficiency