We gladly accept MEDICARE and most other insurances
If you need more information please call 800 854-0335 or complete CONTACT FORM
We carry a variety of Pumps and Sleeves including BIO-COMPRESSION
SPORTS PUMP – BIO COMPRESSION  COLD COMPRESSION/ RECOVERY SYSTEM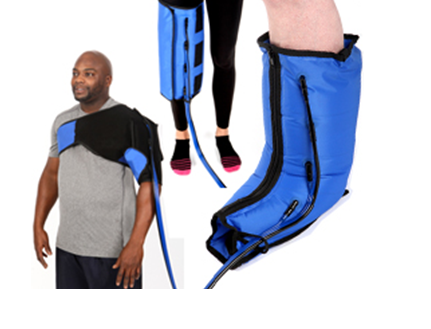 The Bio Sports Pump is a gradient, sequential, pneumatic compression device, intended for the treatment of Tendinitis, Hamstring Pulls, Joint Inflammation, Post-op Ankle/Knee Injuries, Soft Tissue Injuries, Acute Sprains, Bruises, Edema and other Musculoskeletal Injuries. Many athletes  use this device after games, practices and intense work outs to support rapid muscle recovery.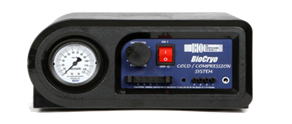 Sport Pump compression recovery systems use cold compression sleeves in conjunction with a compression pump to apply regulated pressure to injured areas as well as muscles, tendons, ligaments and the circulatory system through the arms and legs. This Bio Compression system massages in a specific pattern (gradient-sequential) to speed the natural recovery process. In less than 1 hour, patients and athletes alike have felt the full benefit of a circulatory and muscle recovery that would typically take a full 12 to 24 hours.
It also quickly and efficiently removes metabolic waste that cause limb pain, such as lactic acid, carbon dioxide and other similar by products that build up in muscles, tendons and ligaments during exertion. It is used for sports injuries as well as soreness, muscle fatigue and swelling.
How Does the BioCryo System Work?
This state of the art system consists of a sequential circulator and an easy zip-on Bio-comfort garment providing sequential, gradient compression and cold therapy to any extremity. Two extremities can be treated simultaneously. After removing the garment from the freezer, BIOCRYO maintains a constant 40ºF skin interface temperature for several hours, ensuring less painful and more rapid healing.
To get more information, please call 800 854-0335  or complete our CONTACT FORM. We get back to you as soon as we can.  
HERE ARE COMPRESSION GARMENTS AVAILABLE FOR SPORTS PUMP.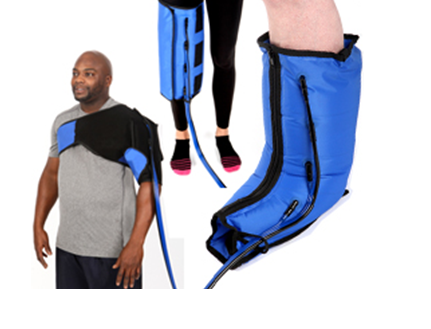 SHOULDER, THIGH AND FOOT/HALF LEG GARMENT.